Exhibitions
making space
@ Institute For Figuring, Los Angeles
December 15, 2012 – June 29, 2013
Physics on the Fringe
@ Institute For Figuring, Los Angeles
April 14 – November 10, 2012
Mosely Snowflake Sponge Exhibition
@ The USC Libraries
September 20, 2012 – January 30, 2013
Midden Project
@ The New Children's Museum, San Diego, CA
October 15, 2011 –September 15, 2013
The Logic Alphabet of Shea Zellweger
@ The Museum of Jurassic Technology
Opening reception March 3, 2007 – March 3, 2012
IFF
@ The Walker Art Center
April 24 – September 29, 2009
Inventing Kindergarten
@ Art Center College of Design, Alyce de Roulet Williamson Gallery
October 13, 2006 – January 7, 2007
Hyperbolic Cactus Garden + Hyperbolic Kelp Garden
@ Fair Exhange, during the LA County Fair, Pomona Fairgrounds
September 8 – October 1, 2006
The Business Card Menger Sponge
@ Machine Project, Los Angeles
Los Angeles – August 26 – September 24, 2006
Crocheting the Hyperbolic Plane
@ Machine Project, Los Angeles
Los Angeles – July 2005
Philosophical Toys
@ Apex Art, New York
June/July 2005
Lithium Legs and Apocalyptic Photons
@ The Santa Monica Museum of Art
April 20 – June 9, 2002
Crochet Coral Reef Exhibitions
Hyperbolic: Reefs, Rubbish, and Reason
@ The Williamson Gallery, Art Center College of Design, Pasadena, CA
June 6 – August 21, 2011
Crochet Reef
@ The Smithsonian's National Museum of Natural History, Washington, DC
October 16, 2010 – April 24, 2011
Crochet Reef
@ The Science Gallery, Dublin
March 20, 2010 – June 11, 2010
The IFF "Bleached Reef"
@ The National Design Triennial at the Cooper-Hewitt, NYC
May 14, 2010 – January 9, 2011
Crochet Cactus Garden
Jackson Hole, WY
June 26 – September 28, 2009
Crochet Reef
Scottsdale, AZ
April 11 – July 11, 2009
Crochet Reef Show
@ Track 16 in Los Angeles
Jan 10 – Feb 28, 2009
New York and Chicago Reefs
Staten Island
Sept 27 – Dec 20, 2008
UK Reef Tour
Autumn 2008
Plastic Exploding Inevitable Reef
San Francisco
Sept 7 – Oct 3, 2008
Crochet Reef Symposium
@ Southbank Center
Friday June 13, 2008
Crochet Reef
London
June 11 – August 17, 2008
Crochet Reef
New York
April 6 – May 18, 2008
The Crochet Cactus Garden
@ The Wignall Museum, Chaffey College
January 29 – March 1, 2008
The Crochet Cactus Garden
@ The David Weinberg Gallery
October 26 – December 29, 2007
The Crochet Coral Reef
@ The Chicago Cultural Center
October 13 – December 16, 2007
The Crochet Coral Reef
@ The Andy Warhol Museum
March 11 – June 17, 2007
THE MIDDEN
SHOWING AT THE NEW CHILDREN'S MUSEUM, San Diego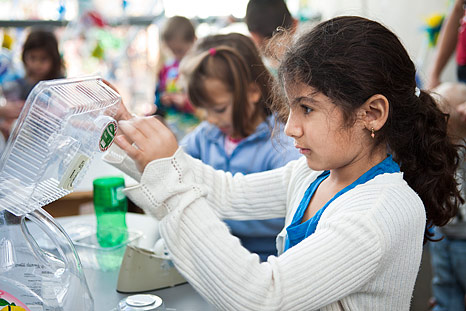 The Institute For Figuring's Midden installation is on display in the TRASH exhibition at the New Children's Museum, San Diego.
Exhibition Dates: October 15, 2011 – March 30, 2013
About the Midden Project
Every year humanity produces more than 100 million tons of plastic, of which it is estimated that 10% ends up in our oceans. Much of this debris accumulates in vast gyres including the Great Pacific Garbage Patch, a floating mass located north-east of Hawaii that now occupies an area twice the size of Texas and more than 30 meters deep. Plastic does not biodegrade, but breaks up into ever-finer particles which sink to the ocean floor. This synthetic "sand" will ultimately become embedded in the geological strata of our planet, recording ours definitively as the Plastic Age.
In early 2007, after learning about the Garbage Patch, Margaret and Christine Wertheim of the Institute For Figuring decided to start keeping all their domestic plastic trash. For the next four years – from February 2007 to February 2011 – the sisters washed, bagged and stored all the plastic they used in the course of their daily lives. The Midden is the accumulated result. This privately gathered set of debris represents a fraction of the average Westerner's consumption of plastic, for during the collection period the Wertheims worked hard to reduce their intake. There is nothing like having to wash a pile of used containers and packages to make you start questioning what you bring home from the supermarket. Through painstakingly material, and almost loving, attendance to a problem we would all like to disappear, the Midden serves as a reflection on our daily choices. What exactly is rubbish? Who is responsible for it? And what are we going to do about it?
Previously exhibited at Track 16 Gallery (Santa Monica, 2009) and the Williamson Gallery at Art Center College of Design (Pasadena, 2011), The Midden has been specially recurated as an aerial installation for the TRASH exhibition at the New Children's Museum.
The Midden installation is curated by Margaret and Christine Wertheim with assistant curator Anna Mayer.
The exhibition features plastic trash "Midden Monsters" by Evelyn Hardin, Clare O'Callaghan, David Orozco, Vanessa L. Garcia, Christine and Margaret Wertheim.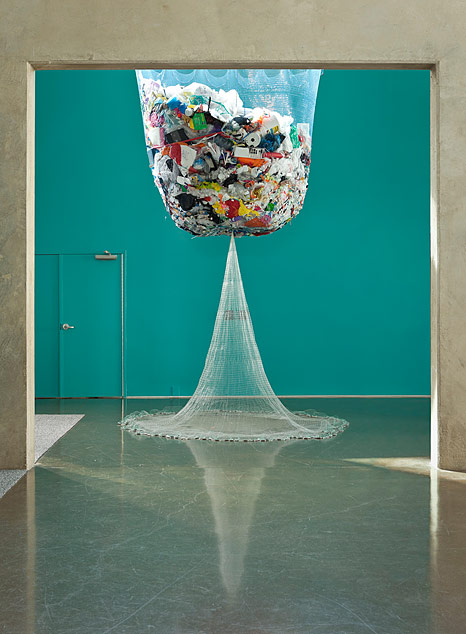 The San Diego Midden
As a dynamic application of the Midden Project, in this exhibition the Institute For Figuring is working collaboratively with the New Children's Museum to create a San Diego Midden. Over the course of the eighteen-month-long exhibition, visitors to the NCM will bring in items of their own plastic trash to be attached to a series of plastic poles. These "trees" will gradually flower with toxic fruit as the citizens of San Diego create a plastic trash "garden" of their own.
As the San Diego Midden evolves the IFF will continue to bring you updated photos and news about the exhibit and its surrounding community.
This unique, open-ended, participatory project is part of the Institute For Figuring's ongoing series of scientific and environmental educational, community-based initiatives.
We challenge visitors to the exhibit to become aware of their own consumption patterns by keeping their personal plastic trash for a week. Or do it for a month, if you are brave. It is a revealing and sobering exercise to see how much you use. Even if, like us, you think you are being environmentally friendly, the chances are you will be amazed and horrified by the pile you create.
For information about making a Midden of your own – including details about washing and storing your plastic - download a pdf of the IFF's "Midden Guide"
Click here for more information about the TRASH exhibition