Exhibitions
CURRENT:
EXPLODE EVERY DAY: An Inquiry into the Phenomenon of Wonder
@ MASS MoCA, North Adams, MA
May 28, 2016 – February 28, 2017
Crochet Coral Reef
@ the University of California, Santa Cruz
February 10 – May 6, 2017
PAST:
Crochet Coral Reef
@ Museum of Arts and Design, New York
September 15, 2016 – January 22, 2017
Night Begins the Day
@ the Contemporary Jewish Museum, San Francisco
June 18 – Sept 20, 2015
Crochet Coral Reef
@ Southwest School of Art, San Antonio, TX
February 12 – April 26, 2015
Crochet Coral Reef
@ New York University Abu Dhabi Institute, UAE
September 28 – December 5, 2014
making space
@ Google Venice Offices, Los Angeles
October 2013 – February 2014
Science + Art Residency: Being Formed
@ Institute For Figuring, Los Angeles
July – December, 2013
An Alternative Guide to the Universe
@ Hayward Gallery, London
June 11 – August 26, 2013
Out of Fashion
@ GL Holtegaard Museum, Copenhagen
April 2013 – Jan 2014
making space
@ Institute For Figuring, Los Angeles
December 15, 2012 – June 29, 2013
Physics on the Fringe
@ Institute For Figuring, Los Angeles
April 14 – November 10, 2012
Mosely Snowflake Sponge Exhibition
@ The USC Libraries
September 20, 2012 – January 30, 2013
Midden Project
@ The New Children's Museum, San Diego, CA
October 15, 2011 –September 15, 2013
The Logic Alphabet of Shea Zellweger
@ The Museum of Jurassic Technology
Opening reception March 3, 2007 – March 3, 2012
IFF
@ The Walker Art Center
April 24 – September 29, 2009
Inventing Kindergarten
@ Art Center College of Design, Alyce de Roulet Williamson Gallery
October 13, 2006 – January 7, 2007
Hyperbolic Cactus Garden + Hyperbolic Kelp Garden
@ Fair Exhange, during the LA County Fair, Pomona Fairgrounds
September 8 – October 1, 2006
The Business Card Menger Sponge
@ Machine Project, Los Angeles
Los Angeles – August 26 – September 24, 2006
Crocheting the Hyperbolic Plane
@ Machine Project, Los Angeles
Los Angeles – July 2005
Philosophical Toys
@ Apex Art, New York
June/July 2005
Lithium Legs and Apocalyptic Photons
@ The Santa Monica Museum of Art
April 20 – June 9, 2002
Crochet Coral Reef Exhibitions
Hyperbolic: Reefs, Rubbish, and Reason
@ The Williamson Gallery, Art Center College of Design, Pasadena, CA
June 6 – August 21, 2011
Crochet Reef
@ The Smithsonian's National Museum of Natural History, Washington, DC
October 16, 2010 – April 24, 2011
Crochet Reef
@ The Science Gallery, Dublin
March 20, 2010 – June 11, 2010
The IFF "Bleached Reef"
@ The National Design Triennial at the Cooper-Hewitt, NYC
May 14, 2010 – January 9, 2011
Crochet Cactus Garden
Jackson Hole, WY
June 26 – September 28, 2009
Crochet Reef
Scottsdale, AZ
April 11 – July 11, 2009
Crochet Reef Show
@ Track 16 in Los Angeles
Jan 10 – Feb 28, 2009
New York and Chicago Reefs
Staten Island
Sept 27 – Dec 20, 2008
UK Reef Tour
Autumn 2008
Plastic Exploding Inevitable Reef
San Francisco
Sept 7 – Oct 3, 2008
Crochet Reef Symposium
@ Southbank Center
Friday June 13, 2008
Crochet Reef
London
June 11 – August 17, 2008
Crochet Reef
New York
April 6 – May 18, 2008
The Crochet Cactus Garden
@ The Wignall Museum, Chaffey College
January 29 – March 1, 2008
The Crochet Cactus Garden
@ The David Weinberg Gallery
October 26 – December 29, 2007
The Crochet Coral Reef
@ The Chicago Cultural Center
October 13 – December 16, 2007
The Crochet Coral Reef
@ The Andy Warhol Museum
March 11 – June 17, 2007
IFF Science + Art Residency: Being Formed
Follow Science + Art Resident Jake Dotson on his blog
This summer the Institute For Figuring will host its first Science and Art Residency. Designed as an extension of the IFF's interest in hands-on practices inspired by scientific themes, the Residency will host two thinker-makers who work at the boundary of the theoretical and material. During Summer and Fall, each resident will take over the Institute, using it as a studio laboratory and as a space for public engagement. At the heart of these open-ended explorations is the question of how form arises, an issue that has engaged philosophers and scientists through the ages. Plato, Aristotle, Darwin, Kant and Einstein have all theorized about the evolution of our from in world, and the origin of form continues to be a key question in a range of scientific disciplines from molecular biology and genetics to astronomy and cosmology. The IFF's 2013 Science and Art Residents - Christine Wertheim and Jacob Dotson - both engage in aesthetic practices that respond to the question of form-creation using simple materials and humble technologies to construct vast, evolving structures.
Throughout the residencies the public will be invited to attend workshops and participate in the construction of the works, giving the IFF's community an experience of two processes that are simultaneously methodical and experimental.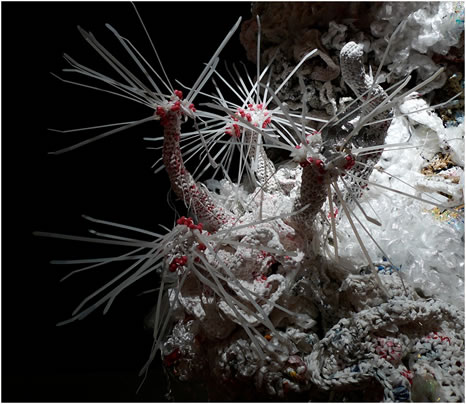 Summer Residency, July 11 - September 28, 2013:
Christine Wertheim - The Silurian Age
From the first protoplasmic seeds, life on earth gradually evolved from pond scum into the vast diversity of organic forms that constitute the tree of life today, that great teeming taxonomic mix from sea slugs and peacocks to elephants and redwoods. How did these structures come into being? The origin of form remains one of the central focuses of biology. Having inspired Aristotle, Goethe and Darwin it is now the subject of intense interest by evolutionary biologists and geneticists. During her residency, Christine Wertheim will create an artwork titled The Silurian Age, a series of large-scale crocheted sculptures that explore the coming into being of organic structure using the algorithmic techniques of crochet, and focusing on plastic bags as her raw material. Workshops will teach crochet and other handicraft techniques.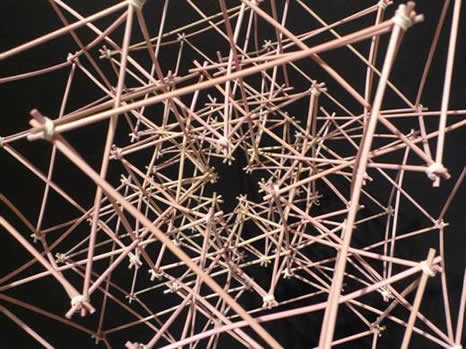 Fall Residency, October 10 - December 21, 2013:
Jacob Dotson - Liberation Geometry
In the mineralogical world, structure emerges from geometry. Salt crystals are cubic, diamond is tetrahedral. The study of crystal structure was one of the great projects of nineteenth century science and ultimately led to the mathematical discipline of symmetry groups. For the past several years Jacob Dotson has been exploring the possibilities of crystalline geometry using simple bamboo sticks to build intricate networks of platonic solids and other mathematical modules. Calling himself a "liberation geometer," Dotson's project is truly experimental as he continually discovers new ways to configure simple geometric units. In this residency Dotson will create several new gallery-filling pieces as part of an ongoing exploratory process. In workshops he will teach a range of techniques for weaving and linking stick-structures, from introductory processes to advanced network buildings.