//
IFF Directors Talks
IFF Directors Talks 2012
IFF Directors Talks 2011
IFF Directors Talks 2010
IFF Directors Talks 2009
//
Previous IFF Lectures
THE MOSELY SNOWFLAKE SPONGE
Exhibition Opening and Fractal Unveiling
Doheny Library, University of Southern California
Thursday, September 20, 2012 @ 5–7pm
THE ART OF ITERATION
A Lecture by Ryan and Trevor Oakes
Sat. September 22, 2012 @ 6–8pm
MAKING SPACE
Theoretical and Practical Explorations of Space
@ Hayward Gallery, London
June 12–14, 2012
IFF Director Margaret Wertheim speaks at Art Center College of Design
June 22, 2011 @ 7pm
With Dr. Jerry Schubel, President and CEO, Aquarium of the Pacific
Captain Charles Moore Talks About Plastic Trash
[IFF-L22] Saturday Jan 17, 2009
IFF Director Margaret Wertheim
Neuroscience Discussions at the LA Public Library
[IFF-L21] October 2 + November 10, 2008
Seeing Anew [IFF-L20]
A lecture by Trevor and Ryan Oakes
at Machine Project Sunday, June 24 @ 7pm

The Logic Alphabet of Shea Zelleweger[IFF-L19]
A discussion with the IFF and Dr. Shea Zelleweger
at Foshay Masonic Lodge Saturday, March 3 @ 5pm
Structural Considerations of the Business Card Sponge[IFF-L17]
By Dr. Jeannine Mosely
Sunday, September 10 @ 8pm

The Insect Trilogy
@ Telic Arts Exchange
How Flies Fly [IFF-L14]
By Dr Michael Dickinson
The Ecology of a Termite's Gut [IFF-L15]
By Dr Jared Leadbetter
What is it Like to be a Spider? [IFF-L16]
By Dr Simon Pollard

Where the Wild Things Are 2:
A Talk About Knot Theory [IFF-L13]
By Ken Millett
at The Drawing Center in NY.

Where the Wild Things Are 2
by Ken Millett
at the University of California, Santa Barbara
Things That Think:
A hands-on history of physical computation devices.
by Nick Gessler [IFF-L12]
Where the Wild Things Are:
A Talk about Knot Theory
by Ken Millett [IFF-L11]
at The Foshay Masonic Lodge (Culver City)
Crocheting the Hyperbolic Plane:
A conversation on non-euclidean geometry and feminine handicraft
by Dr. Daina Taimina and IFF Director Margaret Wertheim [IFF-L10]
Darwinism on a Desktop:
Sodaplay and the Evolution of a Digital World
by Ed Burton [IFF-L9]
The Logic Alphabet
by Christine Wertheim [IFF-L8]
Why Things Don't Fall Down
A Talk About Tensegrities
by Robert Connelly [IFF-L7]
Kindergarten:
The Art and Science of Child's Play
By Norman Brosterman [IFF-L6]
Crocheting the Hyperbolic Plane [IFF-L5]
A Talk by David Henderson and Daina Taimina
The Mathematics of Paper Folding [IFF-L4]
by Robert Lang
The Physics of Snowflakes [IFF-L3]
by Kenneth Libbrecht
Crocheting the Hyperbolic Plane [IFF-L2]
by Daina Taimina and David Henderson
The Figure That Stands Behind Figures:
Mosaics Of The Mind [IFF-L1]
by Robert Kaplan
//
Previous Events
Crochet Hyperbolic Workshop
Proteus Gowanus gallery, Brooklyn, NY

Hyperbolic Crochet Workshop:
a celebration of feminine handicraft and higher geometry and a homage to the disappearing wonder of coral reefs.
at The Institute For Figuring – Special Collections

KnitOne-PurlOne:
A workshop on crocheting the hyperbolic plane.
at the Velaslavasay Panorama in Los Angeles.
THE MOSELY SNOWFLAKE SPONGE
Exhibition Opening and Fractal Unveiling
Location: Doheny Library, University of Southern California
Date and Time: Thursday September 20, 2012 @ 5-7pm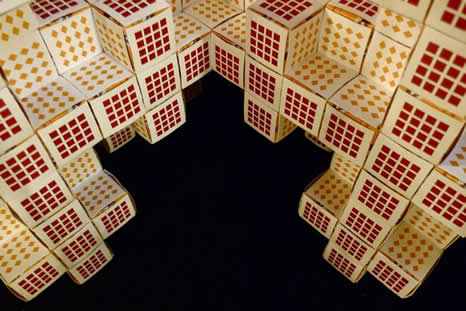 Over the past six months IFF Director Margaret Wertheim has been spearheading a project at the USC Libraries to construct a giant model of a three dimensional fractal known as the Mosely Snowflake Sponge.
97,824 folds
48,912 business cards
5,832 cubes
3000 hours of human labor
300 USC community cubers
1 never-before-built origami fractal
On Thursday September 20, the Institute For Figuring and the USC Libraries will unveil this extraordinary object that has been realized through a collaboration between mathematics, art and engineering. The event will feature a guided tour of the fractal by Dr. Jeannine Mosely, who discovered this amazing crystalline form, and will mark the opening of an accompanying exhibition about fractals in art, science and mathematics curated by Margaret Wertheim.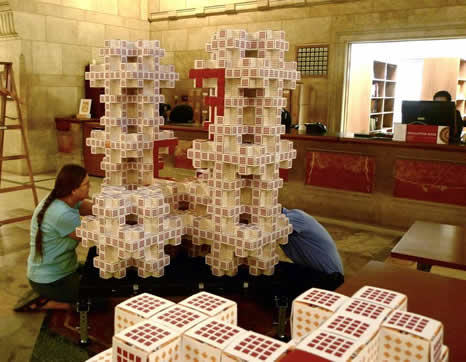 In the photo above, Dr Jeannine Mosely and Tyson Gaskill of the USC Libraries assemble the final configuration of the Mosely Snowflake Sponge from six elaborate "tower modules". The finished fractal will be unveiled to the public on September 20, 2012.
The Mosely Snowflake Sponge exhibition is the culminating event of the year-long Discovery Fellowship that Margaret has been curating at the USC Libraries, bringing together the arts, sciences and engineering.
Download PDF Instructions to Make Your Own Level One Snowflake Sponge