//
IFF Directors Talks
IFF Directors Talks 2012
IFF Directors Talks 2011
IFF Directors Talks 2010
IFF Directors Talks 2009
//
Previous IFF Lectures
THE MOSELY SNOWFLAKE SPONGE
Exhibition Opening and Fractal Unveiling
Doheny Library, University of Southern California
Thursday, September 20, 2012 @ 5–7pm
THE ART OF ITERATION
A Lecture by Ryan and Trevor Oakes
Sat. September 22, 2012 @ 6–8pm
MAKING SPACE
Theoretical and Practical Explorations of Space
@ Hayward Gallery, London
June 12–14, 2012
IFF Director Margaret Wertheim speaks at Art Center College of Design
June 22, 2011 @ 7pm
With Dr. Jerry Schubel, President and CEO, Aquarium of the Pacific
Captain Charles Moore Talks About Plastic Trash
[IFF-L22] Saturday Jan 17, 2009
IFF Director Margaret Wertheim
Neuroscience Discussions at the LA Public Library
[IFF-L21] October 2 + November 10, 2008
Seeing Anew [IFF-L20]
A lecture by Trevor and Ryan Oakes
at Machine Project Sunday, June 24 @ 7pm

The Logic Alphabet of Shea Zelleweger[IFF-L19]
A discussion with the IFF and Dr. Shea Zelleweger
at Foshay Masonic Lodge Saturday, March 3 @ 5pm
Structural Considerations of the Business Card Sponge[IFF-L17]
By Dr. Jeannine Mosely
Sunday, September 10 @ 8pm

The Insect Trilogy
@ Telic Arts Exchange
How Flies Fly [IFF-L14]
By Dr Michael Dickinson
The Ecology of a Termite's Gut [IFF-L15]
By Dr Jared Leadbetter
What is it Like to be a Spider? [IFF-L16]
By Dr Simon Pollard

Where the Wild Things Are 2:
A Talk About Knot Theory [IFF-L13]
By Ken Millett
at The Drawing Center in NY.

Where the Wild Things Are 2
by Ken Millett
at the University of California, Santa Barbara
Things That Think:
A hands-on history of physical computation devices.
by Nick Gessler [IFF-L12]
Where the Wild Things Are:
A Talk about Knot Theory
by Ken Millett [IFF-L11]
at The Foshay Masonic Lodge (Culver City)
Crocheting the Hyperbolic Plane:
A conversation on non-euclidean geometry and feminine handicraft
by Dr. Daina Taimina and IFF Director Margaret Wertheim [IFF-L10]
Darwinism on a Desktop:
Sodaplay and the Evolution of a Digital World
by Ed Burton [IFF-L9]
The Logic Alphabet
by Christine Wertheim [IFF-L8]
Why Things Don't Fall Down
A Talk About Tensegrities
by Robert Connelly [IFF-L7]
Kindergarten:
The Art and Science of Child's Play
By Norman Brosterman [IFF-L6]
Crocheting the Hyperbolic Plane [IFF-L5]
A Talk by David Henderson and Daina Taimina
The Mathematics of Paper Folding [IFF-L4]
by Robert Lang
The Physics of Snowflakes [IFF-L3]
by Kenneth Libbrecht
Crocheting the Hyperbolic Plane [IFF-L2]
by Daina Taimina and David Henderson
The Figure That Stands Behind Figures:
Mosaics Of The Mind [IFF-L1]
by Robert Kaplan
//
Previous Events
Crochet Hyperbolic Workshop
Proteus Gowanus gallery, Brooklyn, NY

Hyperbolic Crochet Workshop:
a celebration of feminine handicraft and higher geometry and a homage to the disappearing wonder of coral reefs.
at The Institute For Figuring – Special Collections

KnitOne-PurlOne:
A workshop on crocheting the hyperbolic plane.
at the Velaslavasay Panorama in Los Angeles.
THE ART OF ITERATION
A Lecture by Ryan and Trevor Oakes
Location: Institute For Figuring, Los Angeles
Map
Date + Time: Saturday September 22, 2012 @ 6-7:30pm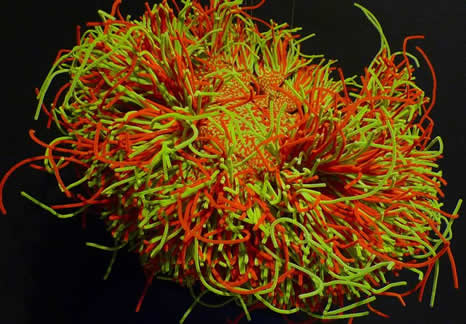 Pseudosphere woven from pipe-cleaners by Ryan and Trevor Oakes.
On Saturday September 22 the IFF is delighted to welcome Ryan and Trevor Oakes, twin New York artists, who will discuss their sculptural and drawing processes based around methods of iteration that mimic and reflect mathematical algorithms and organic modes of growth.
The IFF's relationship with Ryan and Trevor dates back almost to our founding days when we discovered each other via our shared interest in hyperbolic forms. Working with thousands of fluorescently colored pipe-cleaners, intricately woven together, the Oakes had discovered how to construct hyperbolic pseudospheres. Months of painstaking labor produced a series of pipe-cleaner structures that seemed to grow by themselves. Since then the pair have developed other methods of iterating both 2D and 3D forms, including enigmatic shell-like structures made from tens of thousands of matchsticks. Like much of the Oakes' work, these assemblages are as much experiments as creations; each piece evolves dynamically under the influence of the physical qualities of its materials. In this talk the Oakes will describe their unique body of work - hovering at the boundary of art, mathematics and biology - and their commitment to the use of iteration, in four distinctly differentiated veins of their work.
After the lecture, join us for a reception with champagne and smoke rings.
The Oakes' pipe-cleaner sculpture, pictured above, is featured in the current IFF Project Room exhibition, The Hyperbolic Imaginary.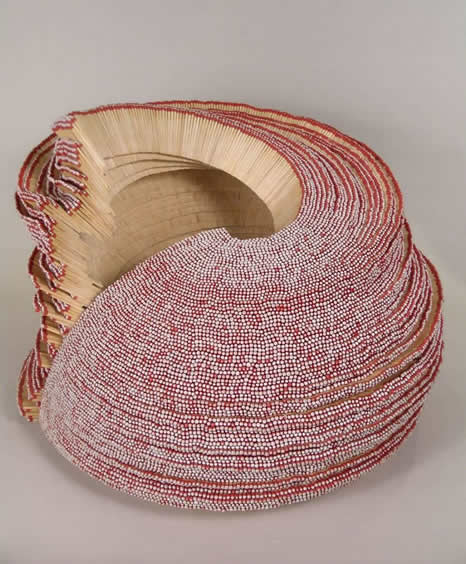 Iterative matchstick sculpture.
Artists' Statement by Ryan and Trevor Oakes
Iteration: the act of repeating a process usually with the aim of approaching a desired goal or target or result.
Iterative structures abound in the physical world around us. Simply strolling down the block reveals that many things repeat. Brickwork, fence slats, sidewalk tiles, blades of grass, even one's footsteps occur in repetitive succession, not to mention the stitches of thread that join the fabric of one's shoes.
So often it seems our world contains action that results in repetitive pattern. Across many realms and mediums, in the non-biological physical world, desert sands, strewn by nothing but wind, form into repeating ripples. Gravel on a country road, pounded by the motion of passing car tires and draining rain water, also forms into ribbed arrangements. Biologically, plants seeking sunlight, break into a multitude of leaves. In the realm of the man made, humans seeking to join leather, lay paths, build walls, or simply walk, think to divide these larger motions they desire into many manageable identical units of movement their bodies can muster. Even in the expanses of outer space, planets spin in periodic rotation and revolve recurrently around the sun.
In our work, we seek to embrace this engrained repetitive tendency in the activity happening in the physical world.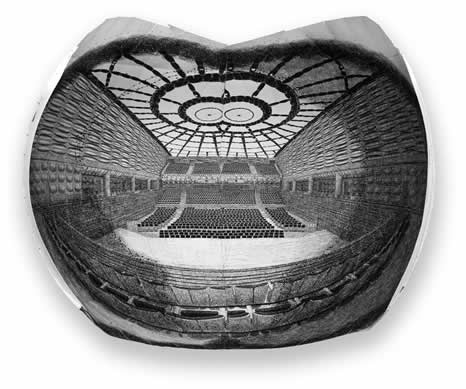 Dish Drawing of EMPAC's Concert Hall" - infinite point perspectival drawing inscribed on the inner surface of a sphere.
Artists Biography
Colorado-born visual artists and twin brothers Ryan and Trevor Oakes, based in New York City, have been collaboratively building projects since they were children. Their public art projects include a large-scale outdoor sculpture that debuted in Chicago's Millennium Park, drawing projects at the Palazzo Strozzi Museum in Florence Italy, as well as projects at the Getty Center in Los Angeles. They were most recently artists in residence at The Curtis R. Priem Experimental Media and Performing Arts Center (EMPAC) in Troy, New York. More information about their work can be found at: www.oakesoakes.com.
The Oakes' work is currently on show in a solo exhibition at the Worth Ryder Gallery at U.C. Berkely

New Work by Ryan and Trevor Oakes

September 12 – October 6, 2012
Reception: Wednesday, September 12, 4pm – 7pm

Worth Ryder Gallery, UC Berkeley, 116 Kroeber Hall, Berkeley, CA 94720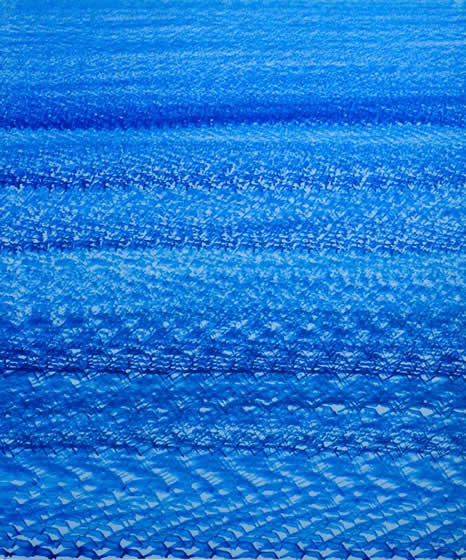 "Synchronized Field": A morphing pattern of repeating painted units, diminishing in scale from bottom to top, plays upon the classic "illusionistic window" whereby depth is depicted through shrinking size.